Raise Money by Selling Unwanted Clothing!
AiMHi collects and sells clothing and household items to Value Village.
Now AiMHi wants to share the opportunity with your Community Group!
We will pay $1.00 for every large bag of clothing your community group collects. Note: a large garbage bag is approximately 26 x 36 inches, and a weight of 15 to 20 pounds.
How It Works
Set your pick-up date and location
Plan your clothing drive
Collect clothes
AiMHi picks up bags of clothing on agreed date and location
AiMHi pays you $1.00 for each bag
Example of Acceptable Items for Donation
Clothing for men, women and children
Accessories (belts, hats, scarves)
Purses, wallets, backpacks and bags
Shoes and boots
Towels, tablecloths, curtains and linens
Under garments, nylons and socks
Blankets, bedding and pillows
Where Does the Money Go?
When items are picked up, AiMHi 'Common Goods' program sells them to Value Village stores, profits go toward AiMHi programs.
The profit from the sale of donated items benefits adults and children who have disabilities. We use the funds to enhance existing employment programs, as well as further develop our programs to meet the changing needs of people. In other words, your donations help us support people to have better lives.
How to Get Started?
Call 250-564-9402 or 250-640-0402.
Fill out our online pick-up form to schedule a pick-up.
---
AiMHi's Common Goods Program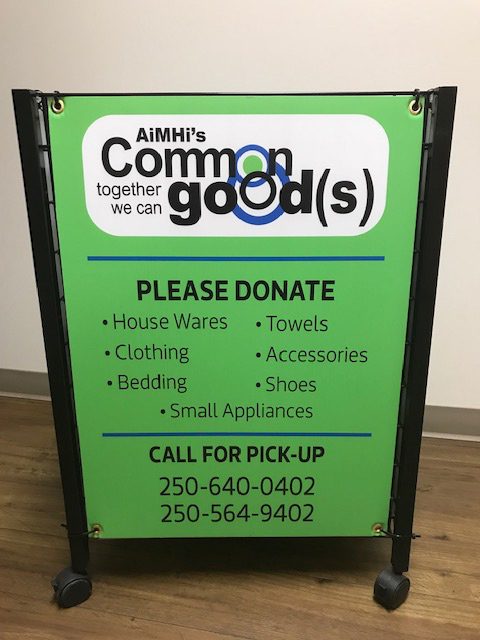 As you may be aware there has been ongoing concerns with the large outdoor donation bins used for the collection of gently used products. These have unfortunately resulted in some tragic situations since being implemented with a couple of re-designs along the way that have not been successful to date.
AiMHi has been diligently working on a resolution and would like to take the lead on new strategies to ensure these tragic events do not happen to anyone else. We are committed and making it a priority to keep the public safe. We have been working on a new design for collecting donations from the public.
We value the donations that are provided by our community to support AiMHi in their fundraising efforts and partnership with Value Village. We do not want to eliminate this valuable donation resource nor exclude our community from supporting us with this recycling opportunity. We do want to provide a viable safe alternative while ensuring items do not go to the landfill unnecessarily when they can be recycled. AiMHi believes the community also feels strongly about supporting a new safer alternative for the collection of products. We strongly feel this is the future alternative of replacing collection bins and is safe for all.
AiMHi is also very proud of the fact that while we provide this service we also include this valuable resource as an opportunity to train people through this partnership. We have people who work on the truck during pickups and drop offs, as well as people in the office training when they are making calls to the public. Many of these people, once completed the training program find employment within our community using the skills they have learned through this partnership program. We would like to ask for your support by placing one of these new wire bin systems inside your place of business. There are 2 different sizes of wire bins to choose from to accommodate your specific needs each with a locking wheel system. You could place them in any location where your staff and the public could easily drop donated items into it.
We would have regular scheduled pick-ups to collect the donated items. There will be signage on the wire bins to alert people what they are used for, who they are supporting and what kinds of products could be recycled.
We are asking you to support this new safer concept of recycling while making a difference in your community and supporting our fundraising needs.
Thank you
Sandra Beningfield
Director of Services AiMHi Prince George Association for Community Living
250-564-6408 Ext.240
Cell 250-961-9709
We will pick up your unwanted goods from your home!
Contact us and we will pick up your donations. All you have to do is place your donations out on your driveway! Click here to fill out our Common Goods online form
Not only do your donations translate into funds for much needed services, but it provides employment opportunities for people who have special needs!
Our message is simple – donating means recycling reusable items and helping AiMHi at the same time. It really is a win – win situation.
Please donate
Jeans
Long Sleeve Shirts
Sweaters
Coats
Active Sportswear
Scarves
Hats
Gloves/Mittens
Shoes & Boots for the Family
Bed and Bath Linens
Home Décor, Housewares and Small Electrics