Fred McLeod, President

Fred and his wife, Jackie, moved to Prince George in 1981 when Fred was hired by the Prince George Regional Hospital as the head Nuclear Medicine technologist. This is a position he held from that time until his retirement in the summer of 2007. For the next 8 years, Fred managed Phoenix Medical Imaging, the x-ray, ultrasound and mammography clinic located on the main floor of the Phoenix Medical Building, retiring in 2016.
Fred's experience as a board member includes over a decade served as the northern British Columbia representative on the Health Sciences Association (a union of health professionals), many years on the First Baptist Church board, election to the School District #57 Board of Education in 2001 *by-election) and in 2002 election to the British Columbia School Trustees board for a 1 year term in 2004.
Fred and Jackie have 3 grown, married children with 6 grandchildren, all of whom live in Prince George. When he is not playing with the children, Fred enjoys gardening and wood working.
---
Holly Kavanaugh, Vice-President

Holly and her husband Alan have lived in Prince George since 1986. They relocated from New Brunswick so Holly could work as a School Psychologist for School District #57. She has finally retired – for real this time – after 36 years of a very rewarding career. She was previously on the Board of Directors for AiMHi for twelve years. She has also served on the Board of Directors for several other non-profit agencies in Prince George. She is looking forward to the opportunity to work with AiMHi again, as she is aware of the important work completed by the agency.
---
Paul Raines, Treasurer

Paul moved to Prince George in 1973. He holds a Bachelor's degree in Education (Physical Education) from the University of British Columbia and a Master's degree in Administration. Paul worked for the School District No. 57 from January 1974 to December 2005. Part of Paul's tenure was in Mackenzie where he served as a resource class school principal in the 1980's and also assisted in setting up a CDC outreach preschool program in his school there. As a teacher and school principal, Paul has a wealth of experience, over 35 years with children in the educational system including special need students. Paul has enjoyed his tenure on the Board at AiMHi and 15 years of coaching Special Olympics. Paul's younger child is a person with disabilities and so he brings a special needs parent perspective to the position.
---
Brenda Peacock, Past-President

Brenda has been a member of AiMHi's Board of Directors since 1998. During this period she has served as Treasurer, Vice-President, President, and is now Past-President. She is active on the Executive and Finance committees. Professionally, for 35 years, she was a Senior Account Manager Commercial Lending for the Royal Bank before retiring in 2010. She was raised in Prince George and she and her husband, Gary, have one son. She is an active member of the Rotary Club of Prince George Nechako and a volunteer with the Free Mason's Cancer Car program. Brenda feels it is important for all individuals to pursue their dreams and remains a strong proponent of Community Living.
---
Cleo Lajzerowicz, Director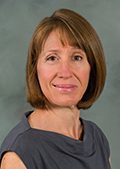 I have lived in Prince George for over 20 years. My husband and I moved to Prince George to open a bike and ski store in the late 1990s. I spent the first decade of my life in Prince George working in Forestry Research and getting my Masters in Natural Resource Management. My husband and I both did a career change with the shift in economy and I was accepted into the Physiotherapy Program at UBC and he went on to Northern Medical Program and to become a local Family Physician.
After training, I came back to the North and I worked in the Hospital, and spent five years at the Child Development Centre after which I opened my own practice, Physio in Motion. My area of interest is Pediatrics and neurological conditions; I work with a variety of children and adults with special needs. I run a mobile clinic and see people in their homes, care facilities, and other community places. I do group exercise classes, such as the COPD SOB group at AiMHi, and I work for School District 91 and 60.
I have two young children and we enjoy the aspects of active life that Prince George has to offer.
---
Cindy Morris, Director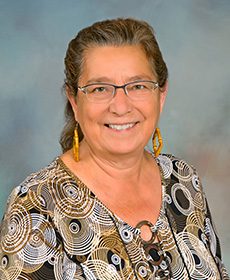 Cindy was born and raised in Prince George, BC. She moved away for 20 years and returned to Prince George in 2013. Cindy has worked as a SASO for School District No. 57 Inclusive Education Department since 2014.
Cindy has a strong background in finance and office management. She has had the opportunity to travel throughout BC, Alberta, and the Yukon training individual business owners, Indigenous communities and corporate staff on the use of computers and software. Cindy held the position of Vice-President for Marketing for a value-added wood manufacturer as well as owned a graphic design & printing company.
Cindy was a board member with the Quesnel & District Chamber of Commerce and served on their annual fundraising gala committee. In the past, she has volunteered with Scouts Canada, Prince George Air Cadets, and youth craft programs.
Cindy's two wonderful sons have given her awesome daughters-in-law and four amazing grandchildren who all live in Prince George. She has a wide range of interests, her favourite over the last few years has been taking her grandchildren camping and introducing them to new experiences and places.
Cindy is a strong believer that every individual is entitled to have the best life ever. She considers it a privilege to be a part of the AiMHi community.
---
Sharon Cairns, Director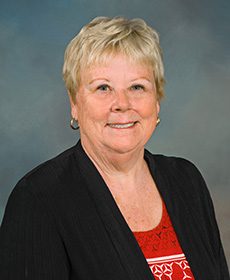 Sharon moved to Prince George in 1975 from Vancouver with her late husband, Morley, and two children to pursue work opportunities and an outdoor lifestyle. Sharon returned to university in Vancouver in 1976 to get her teaching degree and was hired by School District No. 57 where she worked until her retirement in 2011. She worked as a teacher of mathematics and sciences, Vice-Principal, Principal, and Assistant Superintendent. Sharon returned to the School District in the school year 2015-2016 to serve as Interim Superintendent upon the retirement of Superintendent Brian Pepper. During her time with the School District Sharon worked for many students with special needs as well as school based and district staff.Sharon has two grown children with four grandchildren, one family living in Ontario and the other in Prince George with her. She continues to enjoy the outdoors, camping most summers with her sister around B.C. in their small travel trailers. While home she enjoys tending her garden and continuing to learn through reading.
Sharon looks forward to working with the team at AiMHi to enable all those we support and work with to experience success.
---
Niki George, Director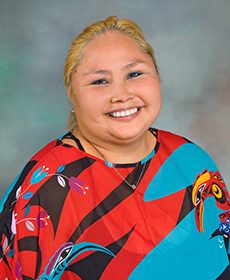 Niki is from the Takla Nation and lives with her husband, Chris, near AiMHi. She has been involved with AiMHi for most of her adult life. She has participated in IES, Life Skills, the Kitchen Program, and the Snack Shop. Niki wants to help bring new ideas to the table and offer a Self-Advocate perspective to AiMHi's decisions. Some of her favourite things to do are camping, fishing, and cooking.
---
James Fowlie, Director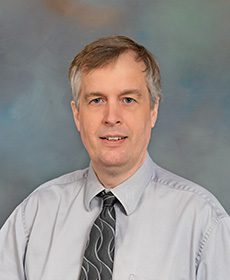 James was born and raised in Prince George and has lived almost his entire life in the City, leaving only for university studies. After earning his degree, he worked for a local information technology company until he joined Hope Heinrich as Administrator where he gained his management experience. Eight years later, he moved to Heather Sadler Jenkins LLP (now HSJ Lawyers LLP) where he spent the next thirteen years in a similar role. He also provided technology and management consulting services to small businesses in town. In 2020, he left HSJ to become the Business Manager for the Diocese of Prince George, also serving on Sacred Heart Cathedral's Finance Council.
James and his wife, Carol, have three daughters and two sons. Their youngest is assisted by AiMHi and really enjoys learning new things in the Children's Life Skills program. James is grateful for the opportunity to give back to the AiMHi community.
---
Rheanna Robinson, Director

Dr. Rheanna Robinson is a Métis mother, scholar, and advocate for Indigenous health, disability, and education. She was raised in Smithers and has resided on the territory of the Lheidl T'enneh Nation (Prince George) for the last twenty years. Rheanna completed her PhD in Educational Studies at the University of British Columbia in BC's lower mainland, but has a deep commitment and love for Northern BC and all it has to offer.
As an Assistant Professor in the Department of First Nations Studies at UNBC, Rheanna is actively engaged in Indigenous disability-related research and, as someone who lives with Multiple Sclerosis (MS), she looks forward to future studies about the experiences of Indigenous peoples living with MS in Northern BC and its impact on individuals, families, and communities.
Always committed to fostering the importance of considering Indigenous knowledges and principles of equity, diversity, and inclusion, Rheanna looks forward to being a part of the important work of AiMHi.
---
Stephen Pudney, Director

Steve and his wife, Jodi, have lived in Prince George for the past 30 years, raising their three children. After a 40-year career, he recently retired from the railway. He completed an apprenticeship as an Industrial Electrician and was employed repairing locomotives. He spent several years in management in a variety of positions before returning to the trades, eventually becoming president of the union for the shopcraft employees. During this time, he was involved with negotiating contracts and dealing with grievance procedures. Later in his career, he returned to school completing an Electronics Technician diploma at CNC. Steve is well acquainted with AiMHi as his son has been assisted by AiMHi for many years. He is currently serving as the co-chair on the board of his church. He volunteers as an off-ice official for the PG Cougars and helps coach the Special Olympics Golf program.